XGIMI company (CHENGDU XGIMI TECHNOLOGY CO.,LTD) once again via a crowdfunding campaign on Indiegogo wants to raise funds for the production and introduction of a new first Android TV Portable Projector called XGIMI MoGo and XGIMI MoGo Pro – crowdfunding campaign on Indiegogo.
Despite the fact that the campaign has been going on for several days, XGIMI company has already been successful and has obtained financing at the level of 404% (despite still 28 days until the end of the campaign). [UPDATE 10/12/2019] XGIMI XJ03W MoGo Android Projector is available at Gearbest in flash sale for $449.99
XGIMI MoGo Pro / MoGo Overview
On the Indiegogo, XGIMI has prepared two MoGo Projector models (award-winning reddot 2019), the most interesting of which is MoGo Pro Portable projector, supports true 1080p projection, TV chipset, and the cutting edge Android TV system. MoGo Pro projector to provide a sharper, more detailed projection with physical resolution up to 1920×1080 pixels. MoGo projector (MoGo will feature a 540P) is also perfect for gaming and watching any of your Blu-ray movies, as it doesn't downscale or compress any video or image quality (MoGo also supports up to 4K video input). XGIMI MoGo Pro offers 250-300 ANSI Lumen power and MoGo offers 210 ANSI Lumen power
XGIMI MoGo and MoGo Pro, supports image display 30'' – 100'' Big Screen and great sound via Harman-Kardon dual 3 Watt speaker. Projectors can also be used as an external Bluetooth speaker (you can connect MoGo via Bluetooth or 3.5mm Audio cable). Both Android TV Portable projectors are powered by new Amlogic T950X2 TV chip with Mali G31 GPU, they are also equipped with 2GB RAM and 16GB ROM. Both projectors run on the Official Android TV 9.0 (upgradable) with Google Assistant built in. Just press the mic button on your remote and say "Hey Google" to quickly find the latest content. Both projectors also support smart keystone correction (will adjust the project screen up to 40+ degree both vertically and horizontally), autofocus, active shutter 3D technology, chromecast, etc.
MoGo and MoGo Pro comparison vs. competition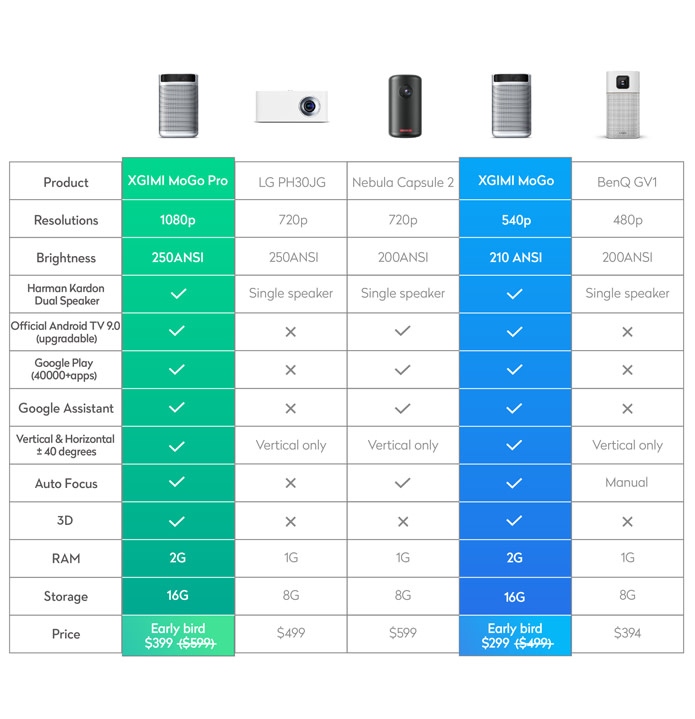 You can still choose the right perk for yourself. According to us, the best deal is XGIMI MoGo Pro Android TV 1080p Portable Projector for $379 (36% OFF), but you can choose a MoGo projector (540p) for $299. Estimated Delivery October 2019. Below you will find a few photos, specification, and contents of the package. More details at XGIMI crowdfunding campaign on Indiegogo.