Today we have new information from the crowdfunding world. XGIMI company (CHENGDU XGIMI TECHNOLOGY CO.,LTD) as we remember, has a strong presence on CES 2017, with its XGIMI H1 and Z4 Aurora projectors. XGIMI constantly expanding its portfolio and now through its crowdfunding campaign on Indiegogo wants to raise funds for the production and introduction of a new Wireless Portable Android Projector called XGIMI CC Aurora – crowdfunding campaign on Indiegogo. 
XGIMI Team wants to raise $50,000 for the investment, and as we see funds should collect very quickly. The price for the XGIMI CC Aurora starting from $389 + shipping. The price is attractive considering all the features that outlined below. XGIMI CC Aurora makes a big impression take into consideration: the small size of the projector, used JBL speakers, 720P HD resolution with 4K video support and 180″ display size, but that's not all. We will try to bring you the key features of this android smart projector.
XGIMI CC Aurora is a wireless portable smart android projector that gives you a no-limit theatre experience that you can indulge it anywhere anytime. And it's ultra lightweight with 3.3 lbs (1.5kg). Features 720p HD high-resolution and powered by JBL speakers, it creates an immersive effect for your favorite movies and content. Just grab it and play it.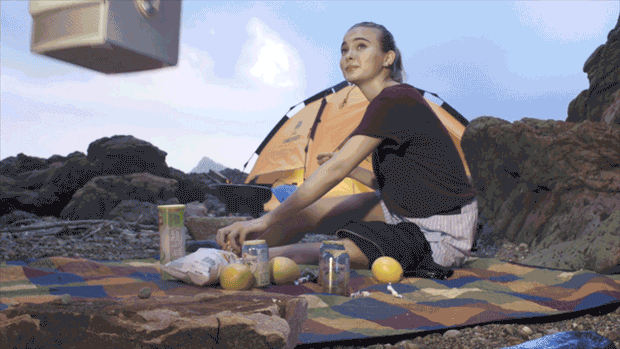 With HD images on screens up to 180-inch and 720p high resolution; you can lie in bed and let the TV shows and movies projected by CC Aurora to fill in your ceiling. HD image (1280*720) quality assessment is composed of color gamut, a technology adopted by UHD TV and Apple iMac; together with other 27 optimization technologies, CC Aurora delivers a dynamic picture with vivid colors. The XGIMI CC Aurora projects up to 180 inches with 4.4 meters distance. (The projected screen size may vary by distance. Whether you use it for camping, playing YouTube videos, or business presentation, with 350 ANSI lumens, XGIMI CC Aurora lets you project it anywhere, anytime.
CC Aurora will autofocus once the projection distance has changed, and it will finish the process in within 3 seconds. With keystone correction, users can use the remote control to adjust the output image when the projector is not placed perpendicular to the horizontal centerline of the screen, so the output image will never be skewed. Wireless remote control, it can be used to control the volume, focus, keystone correction and even as a cursor. Other than the remote control, you can also control CC Aurora via a mobile phone app and play the content on your phone and perform keystone correction.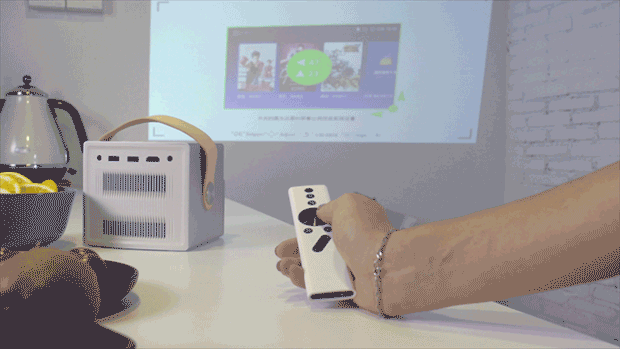 XGIMI CC Aurora supports up to 4 hours playtime (20000mAh). You can watch HBO, Netflix, Youtube etc. XGIMI CC Aurora is powered by Mstar 6A638 Cortex-A53 64 bits Daul-Core 1.5GHz CPU and comes with 1GB RAM DDR3 and 16GB internal storage, which is able to hold up to 4000 songs, 20 TV episodes or 10 movies via Wi-Fi streaming (802.11ac Wi-Fi), no matter at home or on-the-go. By allowing external storage, you can play your own TV show, presentation and install apps via USB port. In addition to Wi-Fi, CC Aurora runs on GMUI OS based on Android 5.1.1, and also supports: Bluetooth, Airplay, DLNA, Miracast, and more. The eco-friendly OSRAM LED illumination leverages up to 30,000 hours lifespan, which is six times longer than the average lifetime of traditional projectors. XGIMI CC Aurora also supports wired connection features, such as HDMI, 3.5mm jack and USB connection, simply connect it, you can:
Play movies or present a pitch deck in a coffee shop via USB flash drive.
Play Chromecast or Amazon Fire TV stick via HDMI port.
Listen to a music concert with your headphone via 3.5mm jack.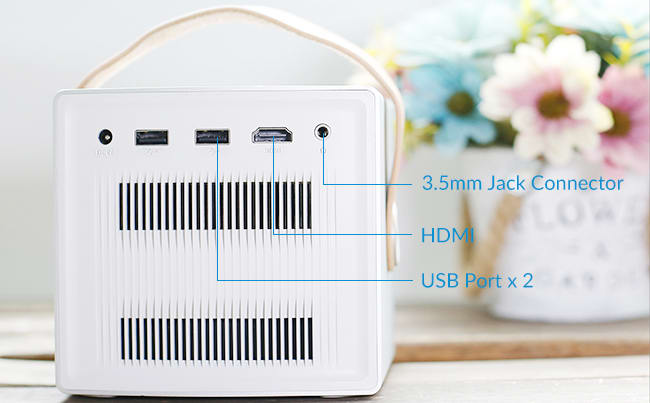 Below is a table with CC Aurora in comparison to other portable projectors. The XGIMI CC Aurora full specifications of can be found here.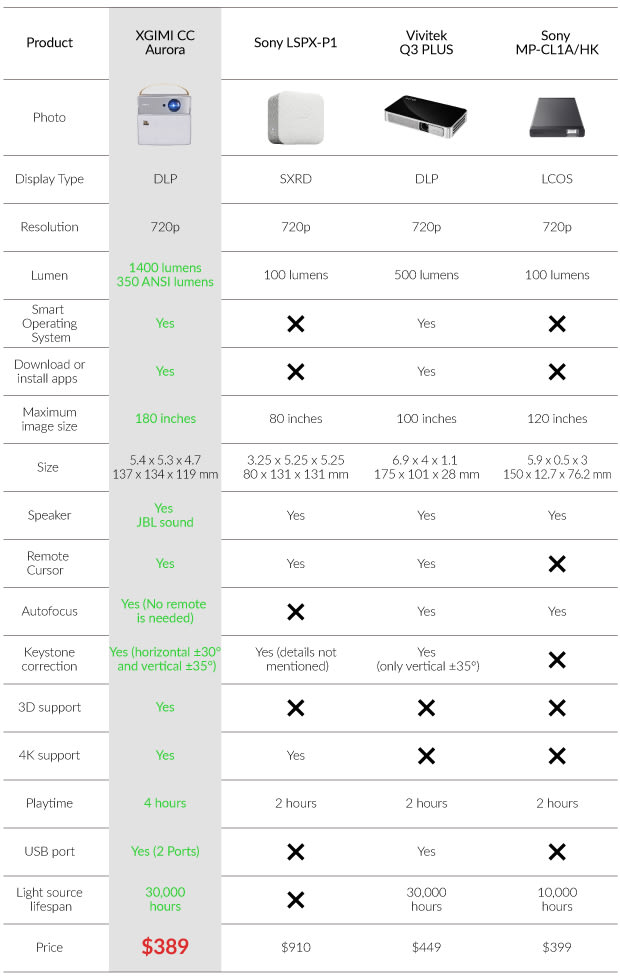 XGIMI CC Aurora is available on Indiegogo now for $389 + shipping (and up) and will ship to backers worldwide in January 2018.